"I offer you my hand so you can cross those wild rivers"
Dick A. Rüger - Coach, facilitator, trusted advisor
Professional background

Dick has spent 25+ years in the international corporate world. He has a solid experience in (senior) management and project lead positions at ING Bank and Electrabel Nederland (now Engie). Dick has helped to create businesses from scratch, managed a variety of teams and helped to define and implement strategy at operational and corporate level. Almost all his career Dick has worked in cross-cultural settings. In the early 90-ties he established the Moscow subsidiary of ING Bank, the first foreign bank with a full banking license in Russia. From 2016 to 2019 Dick was one of the driving forces of the agile transformation within the global Risk department of ING.

The common thread in his career continues to be building -whether it's building organizations (ING Moscow), building teams (i.e. establishing a customer service unit at Electrabel Nederland), or, in particular, 'building' individuals.

Coaching approach

Dick believes that each individual has an impact on his/her surroundings (Umwelt) and vice versa. To help to shape their Umwelt, Dick creates an environment in which clients can shrug off their armor and discover their (inner) needs, passion and purpose while acknowledging their challenges and conflicts. This allows the client to get to the core of the matter, to discuss without judgment and to develop and decide on strong options to move forward. Dick may also challenge participants to step out of their comfort zones, in a safe environment where they can experiment, get feedback and develop new behaviors and talents.

As facilitator Dick observes the dynamics in a team and makes people aware of the impact of their individual behavior and brings the unspoken to the surface. This to create more trust amongst the individual team members and improve the performance of the team as a whole.
Dick focusses on three areas:


Individual coaching focussed on mid-level and senior professionals who want to make a next step, but do not (fully) know what this next step will look like or how to get there;


Coaching private & business partnerships, teams and organizations to function better by observing and facilitating the team process with a focus on the underlying team dynamics;


System coaching for Agile transformations providing coaching and expertise to organizations who want to embrace the agile mindset by helping them shape and kick-start their agile transformation process.
Dick has coached people and teams at various levels and with different backgrounds, including project leads, trainees and senior leaders in large, international corporations. He also has worked with entrepreneurs/owners of smaller companies and start-ups.
Dick is a strong advocate of diversity and inclusion. He supports a number of networks and organizations in the Netherlands, including The Professional Women's Network Amsterdam, TheNextWomen, Polaris and WE organization.

Dick's own purpose in life is to help others transform..."to offer you my hand so you can cross those wild rivers."

Personal background

Dick lives west of Amsterdam, is married and has two children who are both studying. He is an enthusiastic long-distance runner and has finished over 10 (ultra-)marathons, including the Six Majors and the TwoOceans, since 2013. Dick is a member of the Rotary Club Amsterdam West and of the board Professional Women's Network | Netherlands. Other hobbies are yoga, classical music, culinary surprises and discovering different cultures.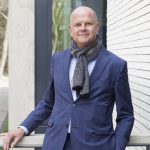 Associate Certified Coach (ACC) - International Coaching Federation
ORSC™ (Organization & Relationship Systems Coaching) coach, with CRR Global;
Certified 'Coaching for Leadership and Personal Development' coach, with the Tavistock Institute for Human Relations;
Certified Agile Practitioner (Agile coach), with the Agile Consortium;
Certified user/interpreter of the Hogan personality-based assessment inventories (HPI / HDS/MVPI);
Organization & Relationship Systems Coaching (ORSC) - Fundamentals & Intermediary, with CRR Global;
Member of the Dutch Order of Professional Coaches (NOBCO) and the International Coaching Federation (ICF).